26
January 9, 2018 by Robin @ Imperial Crochet
Does the history of crochet intrigue you as much as it does me?
As per the following definition, I'm slowly becoming a crochet geek.
noun: geek; plural noun: geeks

be or become extremely excited or enthusiastic about a subject, typically one of specialist or minority interest.
I know this is true because I spend most of my free time either crocheting, shopping for yarn, reading crochet blogs, or looking at photos of crocheted items that were made by others. I knew I'd crossed into a new crochet geek dimension this morning when I found myself looking up the history of crochet.
I've been crocheting for several years and it suddenly occurred to me that I really knew very little, if anything, about the beginnings of my favorite hobby/craft.
Who was the first person to take a strand of yarn and turn it into something warm and cozy?  After studying several websites, I could not find an answer to that question.  What's even weirder is that I can't even find an accurate date or time period where crochet actually started.
Best Sites to Learn the History of Crochet
I spent some time this morning searching the topic and the following are my favorite sites that I felt had some of the best information.  If you have another site that you think is useful, please share it in the comments and I'll gladly add it to my list if I agree.
According to Crochet.org's History of Crochet written by Ruthie Marks, "it's impossible to find evidence of true crochet in Europe before the 1800's."  Crochet is thought to be derived from an ancient Chinese needlework technique known as Tambour way back in the 1700's.  It can also be linked to Nun's Lace in Italy as far back as the 16th century.
I found this statement in an article at Wikipedia:
"The first known published instructions for crochet explicitly using that term to designate the craft in its present sense, appeared in the Dutch magazine Penélopé in 1823."
Although it's factual beginning is a bit confusing, I did find an awesome page that shares some of crochet's "greatest achievements" throughout the eras.  It was actually the first site that came up in my Google search.  The page is A Brief History of Crochet at WoolandtheGang.com where they've created a wonderful visual layout full of fun facts and trivia about crochet's history.  If you're feeling a bit geeky, like me, I highly recommend a visit there.  I learned a lot!
How about you?  Do you consider yourself a crochet geek?  Feel free to share your thoughts in the comments.  I love hearing from my readers!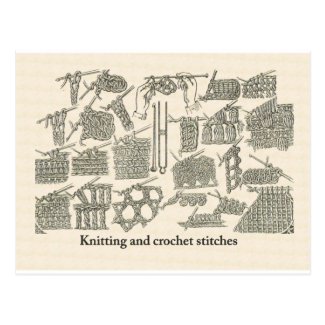 Knitting and Crochet Stitches Postcard
(affiliate link)